Students from Professor Cynthia Joyce's class, Journalism Explorations II (Criticism), visited the Museum for a tour and discussion with featured artist, Maysey Craddock. We've chosen to feature the student reflection below in response to the current exhibit, "Ruin is a Secret Oasis." The exhibition will be on view through July 7, 2018.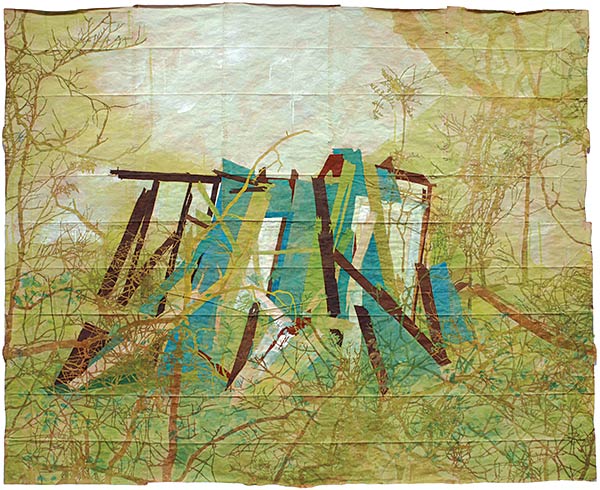 A Rumination in Decay
By Olivia Morgan
In her show at the University of Mississippi Museum, Ruin is a Secret Oasis, artist Maysey Craddock reflects on the inevitability of entropy, and the natural progression of the earth after human forces have abandoned a space.
In the collection's focal piece "somewhere south of Violet," blocks of blue and brown lean upon themselves while being eaten by her creeping lines of light green flora, growing up from the bottom of the painting. Her pieces employ a high level of abstraction, giving the viewer a puzzle to decode

—

to find the lines of the house while differentiating it from what has grown up around it.
"People are not in the work, but humanity is in there," Craddock said. Most of her work is landscape-based, but includes man-made structures in the early and late stages of decay.
"I was really interested in the idea of ruin and nature and that kind of collapsing of architecture and the reclamation of nature," she explained.
The artist, who returned to Memphis in 2008, said she has come to see ruin in her everyday life, including a gaping hole in the top of a building next to her studio. She finds inspiration and sense of place in the works of fellow Memphian and photographer William Eggleston, and also looks to the sublime landscape paintings of the early 1800s. Her appreciation of form and construction comes from her training in sculpture.
She works from line drawings made from carbon paper and photographs she's taken of run-down shelters on road trips through the deep south, pulling from places like rural stretches outside of her home in Memphis, the Mississippi Delta, the Alabama coast, and isolated lands south of New Orleans in Louisiana. Sometimes she seeks to find places, sometimes the places find her.
"I'm interested in that place where land and water meet, that really ephemeral landscape and so it's a little political for sure, how are we preserving the landscape," Craddock added, "And also, of course, there are larger geographical forces at play."
Craddock said that she is drawn more to matte and velvety textures, as opposed to oils. Her work is painted on used paper grocery sacks, sewn together with silk threads. The materials used suggest a "foundness" to the work, a tactility that feels more authentic than a traditional canvas. She said that sometimes when she collects the bags from friends she often finds receipts and shopping lists within the bags, giving them a sense of material history.
Though abandoned, her pieces also have a profound sense of movement. In one piece, entitled "Gravity Sky" sharp white directional lines show the explosion of a home. These gestural strokes against a grey wash background make the building appear as if a tornado is deconstructing it in the very moment. Craddock said this piece led her where it wanted to go, becoming less and less constructed as she worked on it.
She paints with gouache, an opaque watercolor, often creating washy swatches with layers of more intricate details. She uses a variety of hues, from stark blacks and whites to deep greens, and even ochre reds. She said a large piece takes her 3–4 weeks, adding "I always work from a vision, but most of the time the piece just says no."
The piece entitled "Slow Burn" comes from a roadside stop near Jackson, Mississippi captured at noon in mid-August. The painting depicts a scorched structure that had devolved into a spidery-like crumple of metal beams creating interesting geometry. She uses hot blues and searing reds in wavy lines to waft the heat wave off of the page.
She also employs darker tones in a piece where the background of a shed is deeply blackened, save a few fingers of white spilling down the page, stretching and branching like bolts of white-hot lightning. The piece gives one a sense of being underwater, with the building suspended in place by these white lines.
Her use of line

—

to lead the viewer's eye, and to depict tree-line branches as well as coastal water currents

—

takes viewers into a dreamlike land where what has been touched by man has been made untouched by mother nature again.